Announcements
Open Door Weekly Theme – Prehistoric Animals
The weekly theme for October 16, 2017 is "Prehistoric Animals". In this unit, the children will explore dinosaurs' lives, habitats, and sizes. They will learn about the origin of the names of many dinosaurs as well as the incredible size compared to familiar examples. In addition, the children will learn history related to the dinosaurs' lives and discovery based on the ancient theory of Pangea, a supercontinent. The children will illustrate their knowledge of facts they learn about dinosaurs by creating an original model of a dinosaur.
---
Alternate Care at Towson Office for 2017-2018
Open Door has an alternate location at our main office to provide full day care on days when Baltimore County Schools are closed. Sign-up for care will be taken on a first come, first served basis until capacity is reached. Parents can download the Towson Full Day Sign-Up 17-18 here or under Downloadable Forms in the parent tab.
---
Villa Cresta Learns about the Maryland Tradition of Preakness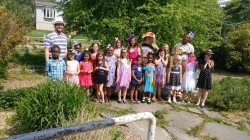 Children dressed in their fancy clothes to celebrate the Maryland Tradition of Preakness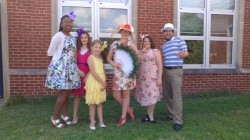 Fifth Grade participants

Children made their own hats as part of the tradition!
---
2017 Fall Registration Available Online
Registration for the 2017-2018 school year is now available online to all families wishing to enroll with a credit/debit card. The option is also available to download a registration form and send it into the office along with your registration fee by check, money order or credit/debit card. Your child must attend the school you are enrolling for.
---