Announcements
Open Door Weekly Theme – Couch Potato
The weekly theme for May 29, 2017 is "Couch Potato". During this unit the children will extend their knowledge about the importance of being physically fit. They will examine the ways to build strength and endurance. They will engage in aerobic activities to build a strong heart and lung system. The focus each day will be on a physical education skill. They will also write to inform, interpret information from a graphic, and work cooperatively to plan the mini-Olympics. They will also develop an exercise routine for themselves. The unit culminates with a mini-Olympic competition and the awarding of medals.
---
Villa Cresta Learns about the Maryland Tradition of Preakness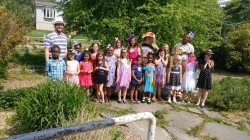 Children dressed in their fancy clothes to celebrate the Maryland Tradition of Preakness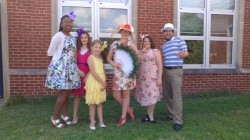 Fifth Grade participants

Children made their own hats as part of the tradition!
---
2017 Fall Registration Available Online
Registration for the 2017-2018 school year is now available online to all families wishing to enroll with a credit/debit card. The option is also available to download a registration form and send it into the office along with your registration fee by check, money order or credit/debit card. Your child must attend the school you are enrolling for.
---
Yoga and Mindfulness comes to Open Door
First Day of Yoga and Mindfulness at Lutherville Laboratory! A good time was had by all. Thank you Holistic Life Foundation.
---