Announcements
Open Door Has a New Baltimore County School in 2019-2020
Open Door is honored to be awarded Franklin Elementary in Baltimore County for programming in the 2019-2020 academic year. Our singular focus is before and after school care, recognizing the role of that care in today's families.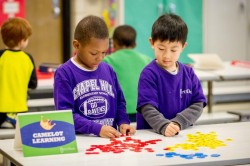 ---
Open Door Weekly Theme – Celebrate You – Celebrate Me
The weekly theme for September 3, 2019 is "Celebrate You, Celebrate Me". This unit provides opportunities for the children to become better acquainted with one another. After learning about the work of Wassily Kandinsky, the children will create paintings to represent themselves and then analyze information that the paintings tell about each other. The individual paintings will be combined to create one large painting for the center. They will collect data about the birth dates of the children in their center, determine the most common birth month and create a birthday chart for the center. Children will complete a survey of easily observable traits, calculate frequency percentages of certain traits for the group and compare how the frequency of these traits compares to those of the general population. Children will also look at which side, right or left, is dominant and whether they are right-brained or left-brained. Through this unit children will consider what makes them and others in our community unique individuals, develop an appreciation for and understanding of how we are different, and see the value in the similarities that we share with one another and others in the world. During this unit, the children will extend their knowledge of music. They will learn that music is as old as time itself and that it continues to evolve as time continues. They will learn about the different genres and understand about their favorite genre of music. The children will learn the basics of reading music and its terms. They will also read to create their own percussion instrument.
---
Alternate Care at Towson Office for 2019-2020
Open Door has an alternate location at our main office to provide full day care on days when Baltimore County Schools are closed. Sign-up for care will be taken on a first come, first served basis until capacity is reached. Parents can download the form for care under "Downloadable Forms" in the parent tab.
---
Pine Grove Lego Club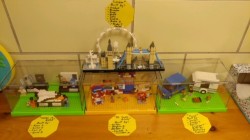 From the "City of London" to the "Women of NASA", kids are having a blast building in the Pine Grove Lego Club, displaying them in cases to share their creations with others in the school.
---