Announcements
Yoga and Mindfulness comes to Open Door
First Day of Yoga and Mindfulness at Lutherville Laboratory! A good time was had by all. Thank you Holistic Life Foundation.
---
Open Door Wins Door Decorating Competition
Open Door at Villa Cresta participated in Villa Cresta's door decorating competition. After many days of hard work from the students and staff it was completed. The students of the school voted for the door they like the best. Open Door's door won 1st place by a landslide. Congratulations!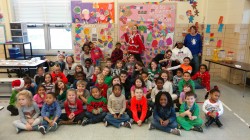 ---
Inclement Weather Policies
Please take an opportunity to get familiar with the inclement weather policies that are specific to each county's school system. The policies for your child's center can be found by clicking "Weather Policies" under the "Parents" tab on the home page.
---
Educational Apps at Open Door
EDUCATIONAL APPS
Open Door provides Kindle Tablets in the centers for use as assistance with Homework or to play age appropriate educational games. Educational games/apps are selected through Amazon by the main office and distributed to each Kindle by Amazon's Whispercast Software. With parental permission, children may sign up to use a Kindle Tablet for a specified amount of time and sign it back in when they are finished. Each Kindle has approximately 40 apps for the children to choose from ranging from pre-school memory and sight word games to eighth grade advanced math and learning Spanish.
Apps by Kevin Bradford are excellent examples of applications individually designed by grade level for Pre-K – 5th grade. Each provides dozens of learning games that include Language and Math.
Review Educational Apps by Kevin Bradford
---