Announcements
Open Door Donates School Supplies
The supplies were donated by more than a dozen businesses as well as area residents and BCPS employees participating in the system's first-ever school supply drive. The drive, conducted from Aug. 1-14 and coordinated by The Education Foundation of Baltimore County Public Schools, was part of the ongoing Back to School Involves You, Too! campaign.
Open Door contributed $10,000 worth of school supplies to the drive. Karen Grannas, Open Door's chief operating officer explained, "Our mission is to support working families, and we appreciate being able to support the Team BCPS community in this way. We're happy to be able to ensure that all children feel the excitement of new supplies as they return to school.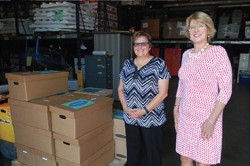 Karen Grannas, COO and Jeanne Murphy, Founder
---
Karen Grannas Appears on WJZ Morning Show
Karen Grannas, COO of Open Door Care appeared on the WJZ Morning Show on Sunday, July 26 talking about STEM activities and the importance of teaching children how to Care for the Earth through Recycle, Reuse and Reduce.
---
Jeanne Murphy Discusses Healthy Snacks on WBFF, Fox 45
Open Door's Executive Director, Jeanne Murphy, recently appeared on WBFF Fox 45 and discussed the importance of healthy snacks, socialization and the practice of good manners during snack time.
---
Children Share What They Like About Open Door
---